Welcome to Winter?
It is hard to believe we are in the middle of winter with 70 and 80 degree days and balmy 50 degree nights. As the saying goes, that is Texas, just wait a minute and it will be 40 degree highs and in the teens at night.

I hope you all had a blessed Christmas season and have recuperated over January. We finally finished inventory three days before Premier Club, but were able to get all of that fabric checked in a ready as well! We have twelve new lines of fabric in the store this month! Just to name a few we have the following; Lori Holt's new line, Sew Cherry 2 and we have kits available for her Sweetie Pie Quilt that she is doing as a sew along on her blog, next is a the Anne of Green Gables collection with a beautiful panel and coordinates; we also have a great Americana collection that includes symbols from across the US as well as Route 66 emblems and finally we are now carrying Australian Aboriginal prints. These prints are stunning!!! I love not only the colors and the prints but the fabric quality is outstanding!!!!

As most of you know the Homespun Quilt Guild's Threads in Red Quilt Show is coming on February 17 & 18th on the first floor of the Convention Center downtown and the One Stop Shop Hop's Quilters Flower Garden will be blooming upstairs in the Chisholm Ballroom. I hope to see all of you there!!

* Just in Tickets Available for Prepurchase*
Threads of Red Quilt Show ($5)
One Stop Shop Hop ($6)
2017 Dallas Quilt Show ($8)

FEBRUARY SPECIALS
15% OFF RED AND PINK FABRICS!!
FAT TUESDAY (FEB 28) ALL FAT QUARTERS IN THE SHOP $2!! Come in and enjoy some King Cake - a special prize for the person who finds the baby!

NEW BLOCK OF THE MONTH PROGRAMS, CLUBS AND CLASSES GALORE!!

Okay, I will admit that I don't know what I was thinking when I decided to bring all of this to the shop, but hey it is going to be FUN!

Game Night - is February 23rd Game times are 6-7pm; 7-8pm; 8-9pm This time we are playing with 3" strips of fabric - Remember you get a free pattern for attending.

BLOCK OF THE MONTH PROGRAMS:

GETTING TO KNOW HUE - 12 months, begins March 2017 | 3 background options and 3 center options | A beautiful Lone Star Quilt that teaches you all about different hues of color and you make this stunning quilt.

Cost: $ 35.00 month




QUILTERS FLOWER PATCH - Edyta Sitar's Quilt teaches new techniques with almost every block. This Block of the Month will also have a class component. We will meet on the First Thursday of the month from 5-7pm to complete that month's blocks. $40 month (includes fabric, templates, pre-cut applique pieces and class)




CONESTOGA CROSSING - 12 month program. $26 per month - travel across the west as you complete your blocks






WADDINGTON ROAD - a Wonderful sampler quilt to complete over the year. $19 month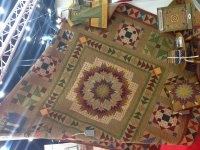 SWEET SUMMERTIME - a combination of pieced blocks and hand embroidered blocks. A 6 month program. $20 month




THOUGHTS OF THE MONTH - A hand embroidered pattern of the month - to keep as small quilts to display or put together into a quilt of encouragement. $10 month




VINTAGE SHIRTINGS AND DRESS PRINTS SAMPLER - A beautiful quilt of vintage prints. $17 month


SOUTHERN VINTAGE - A beautiful pink, turquoise and tan sampler. $21 month




STAR SPANGLED LIBERTY - A stunning Patriotic Quilt - $29 month




CLUBS/CLASSES:
Tuffet Class - February 11 & March 11 - Come and make a tuffet - this is a lot of fun and the finished products are true treasures - a piece of whimsy for your home! Cost for class $75

Coffee and Kaffe - Meets on the first Tuesday of the month at 10am. An informal group that will be discovering new patterns and ways to use Kaffe Fassett's fabric collections. Free Club

Longarm Quilters Club - Meets on the first Wednesday of each month at 1pm and 3pm. We meet discuss problems and solutions, have show and tell and learn a new technique/ruler or foot. The cost of this class is $10. March's instruction is all about batting.

Handi Quilter National Educator, Mary Fisher, will be here on March 3rd and 4th. The Schedule of classes is:
Friday - 10am Longarm Boot Camp Basics
1pm Ruler Mania
Saturday - 10am Backgrounds, Borders and Blocks
1pm You Can Do That on a Longarm?
Each class is $50

Year Long Sampler Class -Meets on the third Saturday of the month at 10am, with the exception of February's class which will meet on February 4th due to the Shop Hop. In this class you will be crafting blocks each week and will have a completed quilt at the end of the year. Cost $59




Children's Year Long Sampler Class - This class also meets on the Third Saturday of the month, only in the afternoon from 2 - 4. At the end of their year they will have a completed quilt - including quilting and binding. Cost - $59




Dear Jane - There are two options available for this class; (1) English Paper Piecing will be held on the second Friday of the month at 10am, the cost for this class is $30. (2) Foundation Paper Piecing will be held at 1pm on the same day (second Friday of the month) Cost for this class is $20. These classes will begin March 10th. Both classes are limited to 7 people so please sign up now.




Kimberbell Embroidery Club - This club will meet on the thrid Tuesday of the month at 10 am. Each month you will receive an exclusive Kimberbell Club pattern digital file and printed instruction sheet. Cost of this class is $20.




Prairie Women's Sewing Circle - Our next journey will begin on March 27 and will meet on the third Thursday of the month from 2 - 4pm. This is one of my favorite clubs, come sit and sew with us as we travel with our ancestors and learn about the history of quilting. Each month we receive a new pattern and have a great time at show and tell. Cost is $60 for the year.

Home Schooler's Sewing Classes - We are now offering home school children a sewing option - Every Tuesday from March 21 - April 25 starting at noon for 7012 beginners, 1pm for 7-12 yr old experienced sewists and 2pm for 12+ Beginners and 3pm for 12+ Experienced sewists. If you know any home school children who would like to participate please send them our way! Cost is $59 for the six week session.

In addition to these classes we have partnered with McLennan Community College to teach the following:
Introduction to Quilting
Beginners Quilting
Intermediate Quilting
Sewing for Baby
T-Shirt Quilts
Intro to Machine Quilting
Finishing a Quilt
Machine quilting with your Embroidery Machine
and coming this summer - Kid Camps!
You can see our full schedule in the MCC Continuing Education Books or online at www.mccandyou.com You can enroll for any of the classes by calling 254-299-8888
Thank you all for your continued support of the shop, I really enjoy spending time with you all and helping you finish your quilts. Until I see you, please be safe, happy, and quilting!

Angela