Skip Navigation
Website Accessibility
December Newsletter
December Newsletter
Stuff Your Stocking Kicks Off in the Morning!!!
I am super excited to be bringing you the "Stuff your Stocking" event. I have been gathering things to gather to offer to you all this holiday season. The first email will go out in the morning and if you wish to purchase the item, just respond to the email and I will add it to your stocking. In addition Handi Quilter is also having a sale with 15% off all Handi Quilter and HQ Stitch Gadgets and accessories from December 1st through the 15th as part of their Stuff your Stocking Event!

New Family Members!

I would like to take this opportunity to welcome four new members to the PHD Quilts/Tomorrow's Quilts family:
Michelle will be seeing you all in the morning hours and will the lady behind our facebook page!
Donna will be helping me out in the office and will also be helping you all out on the floor on Wednesdays and rotating Saturdays.
Lezlie will be out on the floor helping all of you on Wednesdays and Fridays and rotating Saturdays.
And Ramona will be here to help every Saturday and Tuesday and Thursday evenings.
Please take a moment to introduce yourselves to these new members of our quilting family when you are in the store next!

December Special!

Store-wide Inventory Reduction Sale!
Red Dots = 30% off
Blue Dots = 20% off
Green Dots = 10% off

Come in and stock up for the cold weather ahead!!!

Handi Quilter is celebrating the holidays by offering 0% interest on their Quilting Machines until December 6th!

Arrow and Kangaroo Cabinets are continuing their floor model sale - so it is a great time to get a new cabinet for Christmas!

Janome's Holiday savings guide is available in the store and their machines are either on sale or have great savings in free accessories.
Upcoming December Classes:
November's Premier Club will be held on December 3rd at 10am and 1pm. I don't want to take away from Thanksgiving weekend, so we will move it back a week again, and we will not have one over the Christmas holiday either.
Make and Take 5: Fat Quarter Pop-up! I can't wait for this class, it is going to be wonderful, we will be using the mini pop-ups that were just released at market!!! Class will be on Thursday December 1st at 10am or Saturday December 3rd at 3:30pm (following Premier Club). Cost of class is $25 and materials and pattern are provided.
Make and Take 6: Embroidered Lace Ornament Covers/. December 8 and 10th at 10am. $25 materials and pattern provided.

Tuffet Class Part II: December 10th at 1pm. We will be assembling are tuffets during this class!!! - Be on the lookout for the pictures on our facebook page.
Make and Take 7: Gift/Toy Bag! Last minute gift wrap and storage container for those odd shaped toys or those small toys that you want to keep together! Choose your fabric and make these great bags for under the tree! December 15th or 17th at 10am. Cost of class $20 materials and pattern provided.
Prairie Women's Sewing Circle: Last meeting of the year will be Saturday December 17th at 1pm. I am already missing our time together and can't wait to get the next gathering together!!

Blocks of the Month:


Vintage Shirtings & Dress - This 12 month program is a beautiful traditional sampler quilt pattern in Red, White and Blues.



Southern Vintage – A Nine month pieced sampler quilt in teals, beige and pink – Beautiful!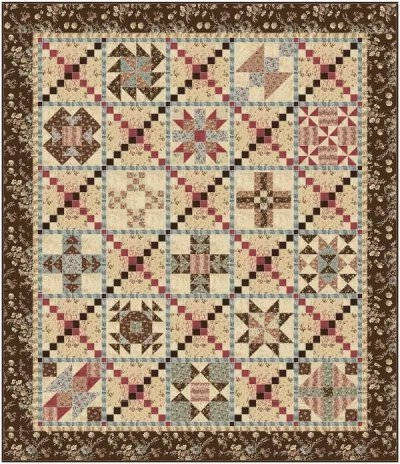 Star Spangled Liberty – A pieced row quilt in red, white and blue that resembles our nation's flag when complete – two options for one of the rows allows it to be all pieced or a pieced and applique quilt.
First Blush – This bright and cheerful quilt is from It's Sew Emma and is sure to please!!


Sweet Summertime – A pieced and Hand Embroidered Block of the month! Each month you will piece one block and embroider one block! We will be having a hand embroidery class to teach a sampling of stitches.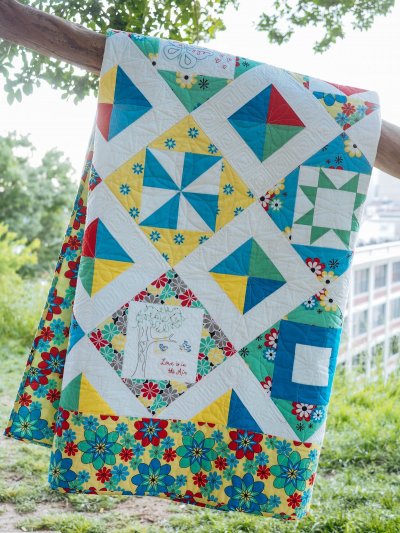 Orphan Train - Coming in January

Its Sew Hue - Coming in February This quilt has three different colorways and three different options for the center star!!

Conestoga Crossing - Coming in January

Waddington Way - Coming in February


Beginning in January is the Dear Jane 20th Anniversary English Paper Piecing Row of the Month!!!




I hope to see all of you this month, but if not I hope you have a blessed Christmas Holiday and a beautiful beginning of the New Year!!!

Angela
The Shop will be closed from noon on December 23rd until January 3rd at 9:30am.
We will be taking inventory at this time.
Click to visit Tomorrow's Quilts with todays fabrics